Celebrate with Dani W!  She was just awarded first place for her original song "Living Legacy"!  
Judges included Grammy nominated producer/engineer Bruce Sugar (Ringo Starr, Ozzy Osbourne), Darryl Ross; a Multi-Platinum producer/arranger, Barry Coffing; a No#1 songwriter, whose songs have been in over 200 films and TV shows, Alan Roy Scott who has had cuts with (Celine Dion, Roberta Flack, Cher, Ray Charles), Mike Gormley, LAPD Mgmt. who helped launch the careers of Rod Stewart, BTO, Rush, The Police, Danny Elfman, the Bangles and Diana Williamson who has written 2x#3 Billboard Hot Club chart songs, is author of "101 Tips and Tricks of Successful Songwriting, is a Voting Member of the Grammys, a Juror for Factor and CEO of Themusiclibrary.org  
Huge thank you to Tanner Richie who produced the music for Legacy and to the entire dream team who created the official music video Directed by Derek Jennings which is OUT NOW on YouTube!  
Watch the official music video on the home page or stream the song on Spotify or your favorite listening platform!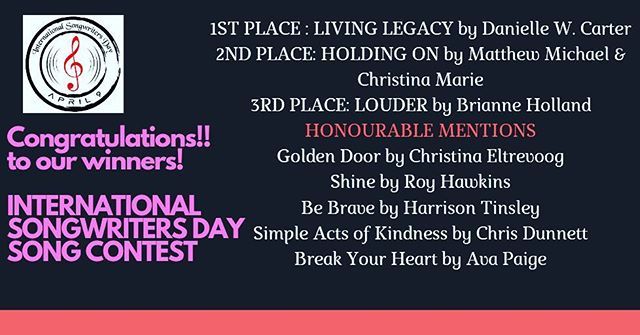 Original Songwriting Credits
Lyricist and Co-composer: Danielle W Carter
Co-composer and Producer: Tanner Richie
Official Music Video Team Credits
Directed by: @deezusshuttlesworth @apotheosisentertainment Derek Jennings, Apotheosis Entertainment 
DP/Editors: @tennysonmccoy @turnerfamilyproductions Tennyson & Siri, Turner Family Productions 
Co-produced by: @najeebrown93 Christian Brown 
Choreographer: @chuckmaldonado Chuck Maldonado Entertainment 
Lead Assistant Choreographer: @patrick_leshore  
Assistant Choreographer: @sunshinesolice  
Wardrobe: @rashantels  
Dancers: @joe_brown101 @suhaliamadison
Locations: Special thx to @drlegacystudios @thesongwritingschool